The "Laboratoire des Ecoulements Géophysiques et Industriels" (LEGI) is a Joint Research Unit (UMR 5519) of the Centre National de la Recherche Scientifique (CNRS), the Institut National Polytechnique de Grenoble (Grenoble INP) and the University Grenoble-Alpes (UGA)). LEGI carries out a wide range of research activities with a common ground: fluid mechanics and related transport phenomena.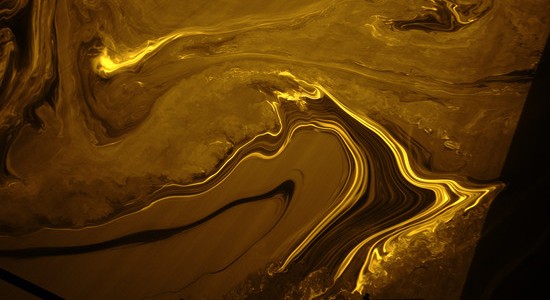 LEGI develops:

 Fundamental research areas to address major scientific challenges still facing fluid mechanics today (turbulence and waves; multiphase and multiphysics; thermal and bio-chemical transfers; fluid-structure coupling).

 To do this, various advanced scientific methods are used (theoretical analyses and modelling; numerical simulation and high-performance calculation; experimental facilities and instrumentation).

 The expertise developed at LEGI thus makes it possible to contribute to the development of various applications at the heart of today's major societal challenges (environment and climate; renewable energies; process engineering; health).
Research teams
These research activities are carried out by the four teams in which LEGI is composed

Splashing by an immersed rotating wheel

 The EDT team (Diphasic and Turbulent Flow) studies the dynamics of turbulence and its interactions with interfaces (bubbles, solid bodies, drops, bacteria).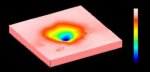 The Energetics team studies fluid processes in which energy exchanges play a key role, particularly in the production of renewable energy.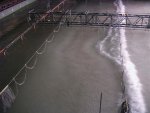 The MEIGE team (Modelling, Experiments and Instrumentation for Geophysics and the Environment) gathers the activities of LEGI related to flows in natural environments: ocean, atmosphere, shore.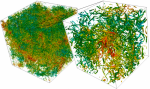 The MOST team (Turbulence Modeling and Simulation) develops numerical tools to predict and understand turbulent flows in increasingly complex physical and geometric configurations.
Shared technical services
The activity relies on shared technical services within LEGI.

 The administrative and financial unit manages a wide variety of research contracts, as well as the hiring of staff and students. He assists the management on the general organisation of the laboratory, including the layout of the premises and security issues, with the support of the supervisory authorities.

 The IT unit provides many vital functions for the laboratory, in terms of organisation, computation and digital storage, both in terms of modelling and experimental data processing. It is also involved in the wider IT policy of the Grenoble site, and organises access to national and European computing resources.

 The support unit for experiments ensure the mechanical design and implementation of experimental projects, as well as the development of instrumentation (acoustics, laser, optics, electronics, signal and image processing).
Contract, cooperation, training...
The LEGI develops much of its activities through research contracts with private partners as well as public (regional, national, European and international), academic collaborations, thesis and post-doctorate grants, expertise, participation in operations of industrial startup...
LEGI is very active in research training: we welcome a large number of PhD students, mainly in the frame of two 'Doctoral Schools': "Mechanics and Energy" and "Earth Environment Universe". Each year, dozens of students with all backgrounds (Masters, engineering schools, license, IUT ...) choose LEGI to carry out their internship.
Testimonials
The LEGI hosts more than 70 doctoral students and postdocs. Online you will find testimonials from former and current PhD students who convey their experience.
Additional documents
It is possible to go further by consulting the online activity reports.
Additional information
Here are some public documents in PDF describing in greater depth the laboratory. These documents are only in French.

 A brief presentation

 Presentation brochure 2018

 Evaluation Report 2014


 Activity report 2010

This document is the report of the evaluation of LEGI laboratory following the visit of AERES early 2010 (Assessment Agency Research). This is a public document is also available live on the agency website.

 Review of the 2005-2009 period and project scientist for 2011-2014

 Activity report for the period 2002 - 2008
---