We are very pleased to invite you to join us in Grenoble, France for the 28th IAHR Symposium on Hydraulic Machinery and Systems.


The symposium, co organized by the SHF (French Hydraulic Society), will be held from 4 to 8 July 2016 at the Energy, Water & Environmental Sciences School of the Grenoble Institute of Technology.
It will offer a unique opportunity for leading scientists and industrial experts to exchange latest advances on hydraulic machines and systems issues, sustainable hydropower challenges, pumped storage plants aspects, and computational & experimental techniques.
HOLD THE DATES AND MARK YOUR AGENDAS :

 Conference Dates : July 4-8, 2016

 Call for Abstracts Opens : May, 2015

 Abstract Submission Closes : August 31, 2015

 Paper Manuscript Deadline : January 31, 2016

 Final Manuscript Submission : April 30, 2016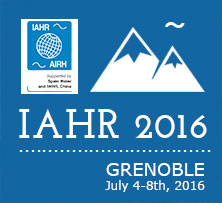 After a reviewing process, selected papers will be published in the symposium proceedings and IOP Conference Series as well. Besides, authors of selected papers will be given the opportunity for an oral or poster presentation.
Instructions for authors and other relevant information about the symposium may be retrieved from http://www.iahrgrenoble2016.org.
We are expecting more than 300 participants from over 20 countries ; the opportunities to meet and discuss with the specialists of your domain of interest will be numerous. Our goals are to generate rich scientific discussions devoted to exciting current issues, as well as opportunities to technical/off-site visits and a cultural fun-filled experience in France.
For comments, recommendations and sponsorship opportunities, please email us at : contact[AT]iahrgrenoble2016.org. Looking forward to receiving your contributions, and meeting you in July 2016 in Grenoble.
On behalf of the 28th IAHR Symposium on Hydraulic Machinery and Systems Organizing Committee
Regiane Fortes Patella,
Professor at the Grenoble Institute of Technology, Univ. Grenoble Alpes,
Laboratory of Geophysical and Industrial Flows (LEGI)