Tuesday 18 et Wednesday 19 March 2014
The first day will be a scientific commemoration of Gabriel Chabert d'Hières through recollection by former colleagues or younger researchers inspired by his research. Gabriel Chabert d' Hières, who passed away on May 10, 2012, led the construction of the large rotating "Coriolis platform" at Grenoble which he managed until his retirement in 1994. He made it evolve from a reduced model of the English Channel into in a unique multi-purpose facility, attracting an international research community in the dynamics of the ocean and the atmosphere. The afternoon will be devoted to a few demonstration experiments and to the presentation of recent developments.
The second day (March 19th) will be devoted to the presentation of the new Coriolis platform, at the final phase of construction, and presentations of scientific prospective.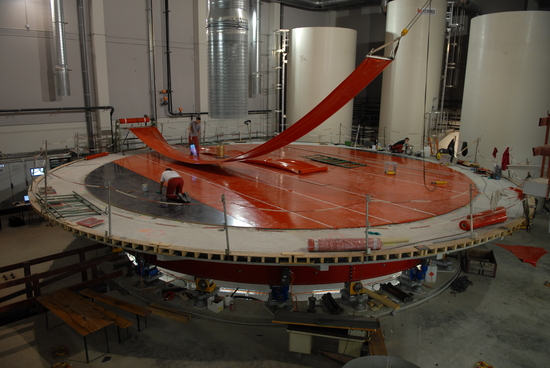 Note also that on March 20th afternoon, professor Harindra Joe Fernando, a former friend of Gabriel, will receive an honorary doctorate from the Université Joseph Fourier and will give a talk at the ceremony, to take place at amphi Weil (free access).
The meeting is freely open, but for practical organization we ask participants to fill out the registration form.
Day "memorial" is aimed at a wide audience, while the day 'prospective', will be more technical .
Contacts : Joël Sommeria, Samuel Viboud
Detailed program and Access map : See joined file