One of the two test sections of the hydrodynamic tunnel of LEGI is being renovated. This operation is part of the Hydro'like chair sponsored by GE (Alstom Hydro Grenoble). The second test section was renovated in 2004 in order to become a platform for testing marine turbines.
This new test section was designed in order to conduct various types of experimental investigations on cavitation. The first tests that will be carried out very soon will allow us to quantify the risk of damage due to cavitation on hydrofoils. This research work that will be conducted by Jean-Bastien Carrat, PhD student at LEGI, aims at investigating the cavitation erosion phenomenon that may damage the blades of a Francis turbine.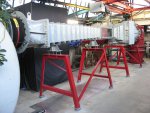 This renovation work is led by the design and instrumentation teams of LEGI, with the assistance of YLec Consultants. It is also part of a DGA project that aims at developing new systems capable of seeding large hydrodynamic facilities with microbubbles used either as 'clean' particles for laser measurements (LDV and PIV) or cavitation nuclei.